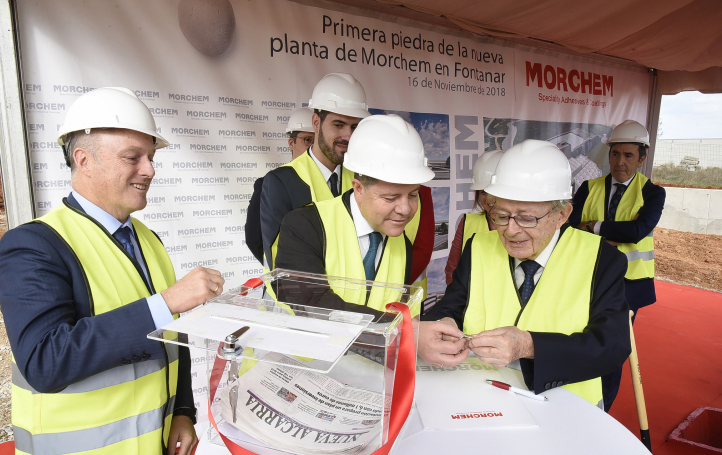 The new polyurethane adhesive production plant that is being built will be a modern, flexible and highly automated plant.
The 30,000m2 plot is located in Fontanar and was owned by Pulsar Properties, who has collaborated in the establishment of the company in the municipality.
Fontanar, November 16, 2018. A new industrial production factory is already being built in the Fontanar industrial estate, reflecting the good times that the Corredor del Henares is experiencing. Morchem arrives, a family-owned company founded in 1985 that produces laminated adhesive, a very specialized glue for food, cosmetic or pharmacy packaging.
The foundation works are already quite advanced on a plot of 30,000 square meters and in which an initial investment of 20 million euros will be made. In its first phase, it will create 14 direct jobs, with the aim of expanding to double the workforce and be able to reach a hundred direct, indirect and induced jobs if all goes well.
In Fontanar they have found the "ideal" place to consolidate their internationalization, after having made the leap to the US, the United Arab Emirates, China, Start and Germany, with a second headquarters for Europe. "We have found an Administration devoted to the company," said the host, thanking the support of the regional government and the Fontanar City Council, highlighting "the great coordination between departments" that exists in the Government that Page presides over, the agility of the procedures "without lowering the level of demand" and all the facilities that have been offered for Morchen to reach Fontanar, asserted the son of the founder of Morchem, also Helmut Schaeidt.